Swim Technique Tips
Featured videos on swimming. Covering all four strokes, leg kicking, underwater dolphins, starts, turns and finishes and training tips. This page shows one featured video. Visit the individual video pages for each stroke.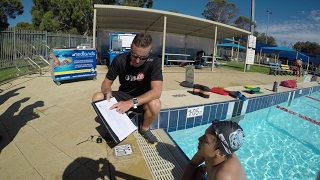 Ramp Test varying Stroke Rate
Ramp Test varying Stroke Rate

Ramp Test varying Stroke Rate As a starting point, the study recorded the swimmer\'s natural stroke rate - i.e. how many strokes they take per minute (SPM) at 1:40 /100m. If you own a Tempo Trainer Pro or Wetronome you will have a good idea of what yours is, most age group swimmers are in the range 50 to 65 SPM.Each swimmer was then asked to swim at 10% below their natural stroke rate and 20% below it, controlled by a Tempo Trainer beeping the timing to them. Since the actual swimming speed was fixed at 1:40/100m, as they slowed their stroke cadence they had to lengthen their stroke to maintain their speed.For each swimmer they also sped up their stroke rate to 10% and 20% above their natural stroke rate. To keep the same speed, the swimmer had to shorten their stroke.